For LCSW and MFT licenses in California
EARN SEVEN CONTINUING EDUCATION CREDITS FOR
only $49.00
last call, ending 11/30/16!
"FINDING THE COURAGE TO TRUST"
Price includes a copy of my book The Courage to Trust: a guide to building deep and lasting relationships (2005, New Harbinger Publications, 160 pp). Receive your CEU certificate in two days after receipt of your responses to a brief questionnaire following reading this book.

Adult trust requires a degree of understanding no one can learn as a child.
Help your clients understand the importance of learning how to first trust themselves.
Trust is more than a feeling, it is also a a skill you can learn, and a choice to be made.

Click here for a self-trust quiz to introduce the goals of the book.
For LCSW and MFT licenses in California
BBSE Continuing Education Provider #1271
until 11/30/16, then no more.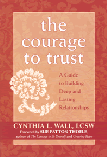 Email Cynthia with any questions